Carpets are used extensively in homes and buildings around the world. Lean and Six Sigma methodologies aid in their manufacture. We'll look at three case studies from Thailand, Egypt, and Iraq, and finish with a video of how carpet is made.
Improving Carpet Machine Efficiency Through Six Sigma DMAIC: Thailand
In a paper titled "Six sigma DMAIC for machine efficiency improvement in a carpet factory," authors Busaba Phruksaphanrat and Naipaporn Tipmanee cover the application of Six Sigma DMAIC phases to improving the efficiency of the Axminster carpet machine.
Included in the paper are:
Axminster Machine Monthly Efficiency
Activity Classification
Ranking of Problems Affecting Efficiency

NOTE: Weft is broken, and Jute is Torn are the top two

Fishbone Diagram for Broken Weft*
Average Time Wasted per Broken Weft Cause
Ranking of Approved Solutions per Cost Gained
Summary Table of Approved Solutions and Related Problems
*Definition of Weft:  Yarns that run horizontally over and under each successive vertical rug warp.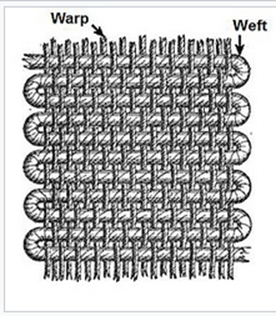 Solutions to the prototype machine's efficiency improvement were broken into six categories:
Training
Designing New Components
Data Analysis
Improving Documentation System
Modifying Machine Components
Improving Material Preparation Methods
You can read their paper here.
Six Sigma Used to Improve Carpet Quality Measurement System Analysis: Egypt
In a paper titled ", Improvement [of] the Quality of Carpet Industry by Using Statistical and Six Sigma Methodology," authors Said Ahmed and others focus on the measurement system analysis completed to ensure the company quality control laboratory could eliminate erroneous measurements affecting the quality of carpet sent to customers.
Initially, the lack of confidence in the company's ability to accurately measure the carpet quality prompted customers to require the use of an external laboratory at additional cost to re-test the product before delivery.
By applying Six Sigma methodology, the company was able to bring the measurements back inhouse.
You can read the details of the measurement system analysis in the paper here.
Applying Lean Six Sigma to the Carpet Production Process: Iraq
In a case study titled "The Application of Lean Six Sigma by Using (DMAIC) Model: A Case study in the General Company for woolen Industries-Iraqi Carpet factory," author Raghad Yousif Gabrow details the application of Lean Six Sigma to the woolen carpet production process.
NOTE: This first 21 pages of the 31 page article present a detailed discussion of Six Sigma, Lean, Lean Six Sigma, 5s, and DMAIC.
The case study begins on article page 776.
The case study includes:
High Level Carpet Factory Process Map
Fishbone Diagram of How Problems are Analyzed in the Factory
Detailed 5s Audit [This is the most useful part of the article.]
Recommendations Going forward
You can access Raghad's article here.
Video on How Carpet is Made
See how Australian carpet manufacturer EC Carpets makes their carpet.
You can watch the video here.