Many students have come to us looking for guidance on the Lean Six Sigma program basics, and what to look for in a legitimate certificate/certification that will be accepted by the industry. While every training program is different, there are certain requirements that every training program should meet. Without a standardized governing body overseeing the practice of Lean Six Sigma program basics, there are often many variations in the methods for becoming certified, some of which don't meet minimum standards for top job positions as a Lean Six Sigma practitioner.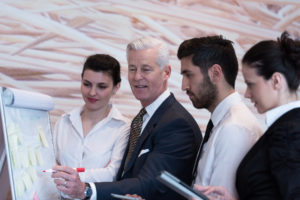 What to Look for in a Lean Six Sigma Training Provider
Not all training programs are created equal. Some organizations have very strict requirements for their Green and Black Belt professionals, which is why it is important to perform your due diligence when looking at a the Lean Six Sigma program basics offered by an organization. Here at ISSSP, we strive to provide our members with the best information and resources available to the Lean Six Sigma field, and that includes guidance on training resources.
We have developed a Lean Six Sigma program basics outline of key things to look for in a Lean Six Sigma training provider. We highly recommend that you do your research and ask the right questions of the training provider before you enroll in any Lean Six Sigma certificate/certification course.
Here are some Lean Six Sigma program basics elements to look for in a trusted Lean Six Sigma training provider:
Professional certification programs require evidence of completed projects for Green Belts and Black Belts.
A White Belt or Yellow Belt training program provides a certificate of completion, not a certification as would be awarded in a Green Belt or Black Belt program. A certificate program is a training program on a specialized topic for which participants receive a certificate after successfully completing the course and passing a test or assessment.
The highest belt level one can attain is a Master Black Belt. These professionals must have led or mentored a certain number of projects (at least ten) before they are certified, and have a prior Black Belt certification. They also must have trained a certain number of Black Belts and Green Belts.
Should be able to provide an outline of programs being delivered.
Accredited by the Better Business Bureau (BBB) (Not all good organizations will be accredited, but it is a good idea to check for a potential low score. As a consumer it is safer to use a BBB accredited organization)
Certifications are valid for several years and require demonstration of work and continuing education for renewal.
SaveSave