Swiss Post Solutions (SPS), an outsourcing provider for business process solutions and document management, is a Switzerland Postal Service (Swiss Post) company. SPS employs continuous improvement to enhance its document management solutions.
In a short video, Jörg Vollmer, CEO, says continuous improvement is their method for ensuring high quality processes and efficiency in the process chain. 
SPS started its campaign by analyzing processes that already work. SPS has a continuous improvement team in every country where it is represented.
You can view SPS's video here.
In the video, it is mentioned that there's a continuous improvement team in every country that SPS is represented. Hungary is one example.  
Hungary's main method is Lean Six Sigma.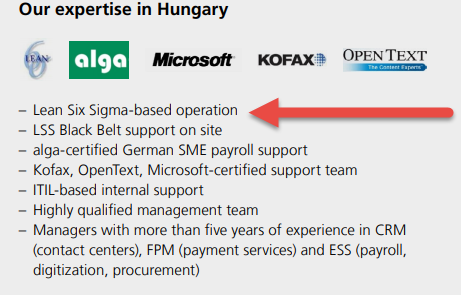 NOTE: SPS's parent company, the Swiss Postal System has been rated the number one postal service in the world based on reliability, reach, relevance and resilience. The US came in at number 8 behind number 7, the UK. You can access the ratings here.
To learn more about the Swiss Postal Service, view their overview video here.