Plumbing and pipes are used everywhere in the world in a myriad of applications, including water, sewage, and chemicals. Lean and Six Sigma are used to ensure improved processes and products. We'll look at three applications from Kuwait, Bangladesh, and the United States. Then we'll finish with a video of how PVC pipes are made.
Using Six Sigma to Improve PVC Pipe Production: Kuwait
In an article titled "A Six Sigma Project on the Improvement of a PVC Pipe Production," authors Anwar Al Merri and others cover the use of Six Sigma to reduce defects in the production of PVC pipes and fittings.
Included in the article are
Process Flowchart for Pipe and Fitting Production
SIPOC
Project Charter
Average Defect Percentage Per Month and Percentage by Extrusion Line
Pipe Costs in Extrusion Line 3
Average Defect Percentage by Molding Line
Fitting Costs in Molding Line 6
Process Capability for Pipe Wall Thickness
Ishikawa Diagram for Pipes with Less Wall Thickness
Contour Plots for Optimal Settings of Feeder Speed vs Torque
Process Capability After Improvements
Out of Control Action Plan
After project implementation, 2.02% of defects were reduced by 89%.
You can access the article here.
Using Lean Manufacturing to Reduce Waste in Pipe Manufacturing: Bangladesh
In a case study titled "Waste Identification in A Pipe Manufacturing Industry through Lean Concept–A Case Study," authors Md. Suman Rahman and others discuss the use of Lean Manufacturing in plastic piping production.
The case study includes:
Cause and Effect Diagram for Time Wasted in Piping Section
Cause and Effect Diagram for Pipe Rejection
Possible Reasons for Wastes
Pareto Analysis of Piping Wastes
Non-value added time by Process Step
5S Analysis
Existing Equipment vs Needed Equipment
You can read the full details of the case study here.
Applying Six Sigma in the Plumbing Industry: United States
In a case study titled "Six Sigma methodology advantages for small and medium-sized enterprises: A case study in the plumbing industry in the United States," authors Murilo Riyuzo Vendrame Takao, Jason Woldt, and Iris Bento da Silva discuss the application of Six Sigma methodology in a North American small and medium plumbing products enterprise in order to reduce cycle time and increase sales.
Before the implementation of the Six Sigma project, the commercial faucet average order cycle time was 20.5 days. After implementation, the commercial faucet order cycle time was an average of 16.8 days.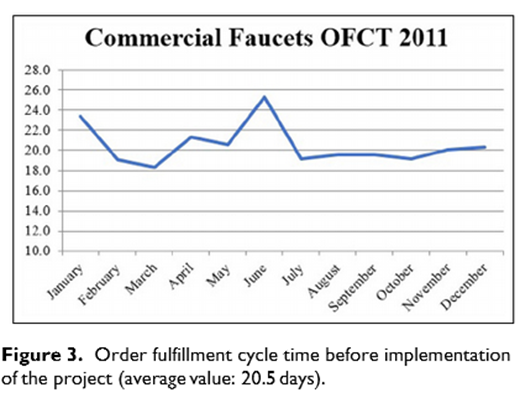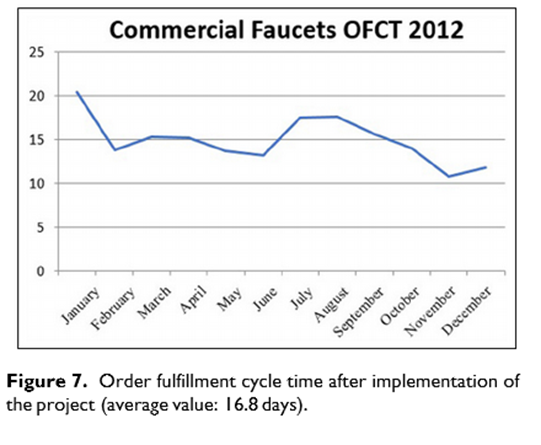 You can read the case study details here.
Video on PVC Pipe Manufacturer
See how Diamond Plastics manufactures PVC pipes, especially the 60 inch diameter ones!
You can watch the video here.
---
Interested in expanding your knowledge on Lean Six Sigma? Take your career to the next level and join ISSSP today! Access the hundreds of videos, webinars, whitepapers, case studies, and other resources available in our library.