The insurance industry is an excellent example of non-manufacturing where Lean and Six Sigma are applied for process improvement and waste reduction. We'll look at four case studies from Germany, India, Northern Ireland, and Brazil.
Lean and Six Sigma Applied to a Large Insurance Company: Germany
In a paper titled "A Lean Six Sigma framework for the insurance industry: insights and lessons learned from a case study," Authors Kai Sandner, Sebastian Sieber, Marleen Tellermann and Frank Walthes propose an integrated framework for combining Lean and Six Sigma with respect to the service sector, specifically the insurance industry.
To validate their framework, they did an extensive study of a large completed project that was conducted at VKG, Germany's largest public insurer.
As part of this, they focused on selected VKG examples and the lessons learned.
You can read their paper here.
[NOTE: Original source for the paper. Journal of Business Economics. volume 90, pages 845–878 (2020)]
Lean Six Sigma Applied to Improve Claim Processing Cycle Time: India
In an article titled "Improvement of claim processing cycle time through Lean Six Sigma methodology," Shri Ashok Sarkarm, Arup Ranjan Mukhopadhyay, and Sadhan Kumar Ghosh present an integrated approach to Lean and Six Sigma in order to reduce the claim processing cycle time in a large private insurance company in India.
As a critical part of the project, the authors analyzed the various reasons for the delay as presented in Figure 7 from their article.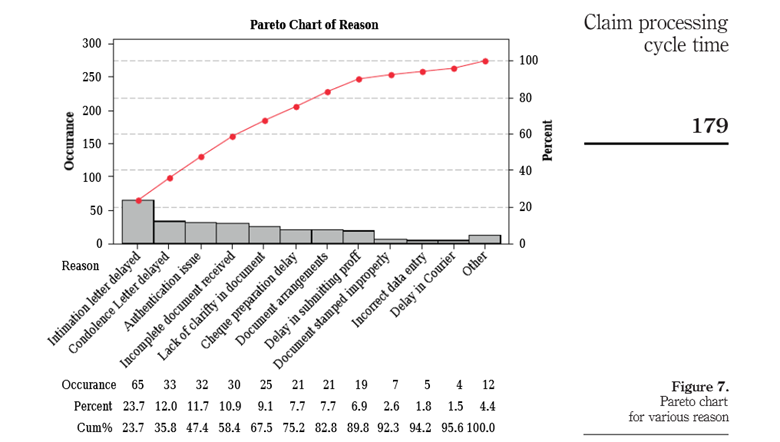 Improvement actions were outlined for ten of the root causes that were identified.
Final results showed that compliance with respect to the deadline of 30 days for claim settlement was increased from 3 to 95 percent.
You can access the case study article here.
Lean Applied to Improve Processes: Northern Ireland
A video from Invest Northern Ireland discusses how Lean was used at Autoline Insurance to improve their processes and workflows to create efficiencies and reduce administration.
You can view the video here.
Lean Management Application: Brazil
In a case study titled "Lean management in a Brazilian insurance company" Luciana Gomes, Process Superintendent at SulAmérica Insurance in São Paulo, Brazil discusses the use of Lean Management at their company.
Through their Lean Office
Provider payment was reduced from 30 days to 15 days
Dental Insurance audit productivity increased from 5,760 processes per auditor per month to over 14,500
Reimbursement preview time was reduced from 8 days to 1-2 days
Reimbursement requests for information return to the customer were reduced from 13 to 49 days to 2 to 5 days.
You can read about their Lean journey here.
---
Interested in expanding your knowledge on Lean Six Sigma? Take your career to the next level and join ISSSP today! Access the hundreds of videos, webinars, whitepapers, case studies, and other resources available in our library.
---