One of the eight wastes in Lean is Motion: Unnecessary movements by people.  
Two of the pioneers in studying motion and how to make it more efficient were the husband and wife team Frank and Lillian Gilbreth.
Through Dave Biesinger's short YouTube video, get an overview of their work on improving efficiency by filming and timing motions in repetitive tasks.
Using motion picture cameras as part of their studies, they found that reducing the number of motions in a process not only made it more efficient but reduced the fatigue of the workers. They developed a system of 17 behavioral units to describe motion.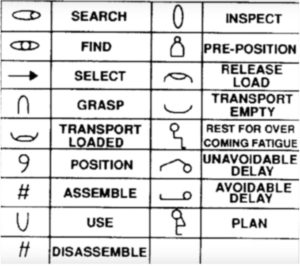 Some of the work that the Gilbreths' are known for includes:
Some of the earliest methods for accommodating persons with disabilities
Adding a surgical nurse to hand the surgeon instruments in the operating room
Standard military techniques for rapidly assembling and taking apart weapons while blindfolded

 
The work of Frank and Lillian makes for interesting reading. You can find much more by searching on their names.
You may have heard of the book or movies titled "Cheaper by the Dozen," which refers to the 12 children of the Gilbreths' and what it was like growing up in the family.
You can view Dave's overview of their work in the video below!